The 2005 Rutgers Exhibition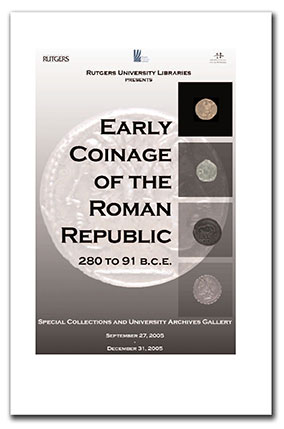 In the Fall of 2005, a selection of coins from the Badian Collection were displayed in the Special Collections exhibit space at Alexander Library. This exhibit was curated by Fernanda Perrone, with the assistance of Dr. Gary Farney (Department of History) and Dr. T. Corey Brennan (Department of Classics). To accompany the exhibition, Dr. Brennan produced the following catalog and checklist, which includes details on the coins included and prefatory material on Classical Roman numismatics.
To view the catalog for this exhibit, click on the cover image at right.
The persistent location for this digital resource is at http://dx.doi.org/doi:10.7282/T3WH2N0Z